Agile HR Community has trained over 1000 Agile HR Certified Practitioner who are making Agile come alive at their companies and in their work. In Agile HR Stories we are presenting lovely people profiles of the Agile HR Certified Practitioners and sharing their story. You'll get ideas, recommendations, experiences from practitioners to practitioners. Welcome to Agile HR Stories.
Agile in HR operations - How to engage in innovation and co-creation
In this story you'll get to know Stacie Justice and learn from her two use cases on Agile HR – Agile in Reward and compensation and Agile Management development!
Profile: Stacie Justice, Agile HR Certified Practitioner and Head of People operations at iZotope.
Born in rural Kansas, most of my friends as a young child were farm animals. I would often tag along to the dairy farm where my mother worked and would find me out in the barn caring for a newborn calf fighting for life under an incubator light. I was also the first person in my family in generations to graduate from college and break a long streak of abject poverty.
As a People Operations and Strategy leader in tech, I am determined to disrupt long held traditional HR/people systems and architecture to open up innovation and opportunity beyond what's expected and has already been done. And of course, this is why I gravitate towards the Agile HR mindset and practice.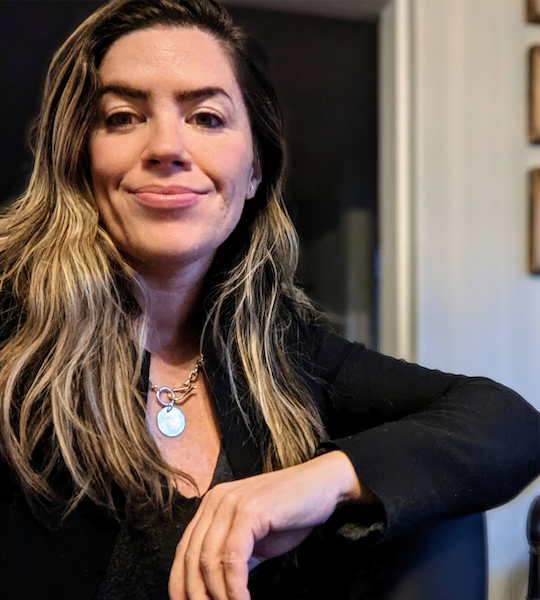 The customer centric mindset was present throughout my career
I started my career in hospitality with the "Surprise and Delight" mentality based on a deep understanding of customer and employee needs. I later moved on to one of the largest global not-for-profit organizations after the Haiti earthquake. Here I came to realise how slow moving bureaucracy can really paralyse the decision making process, destroy autonomy and delay the delivery of value to those most in need.
I knew there had to be a better way to design the strategies that allow humans to better engage with their end users and deliver exceptional value.
Moving into tech made me realise that I had been lean and agile my whole life
By sheer luck I applied to a software company that first attracted me by their super cool name "Rocket Software". My foray into tech is where I realised how fast everything moves; how every decision is a complex decision when you have millions of customers and thousands of employees in multiple countries trying to create a sense of autonomy, achievement, and motivation. Here is where I first learned how to be lean, to probe, sense, and then take action based on research and evidence.
It's in tech where I learned that the methods I was employing that worked the best were indeed agile methods
I want to bring this mindset to other companies in hopes of unlocking a more modern approach backed by a scientific understanding of humans.
Making Agile HR come alive in a top Place to work
Currently, I am the Head of People Operations at one of the most innovative audio software companies in the world. We've got two Emmy's and an Academy Award to prove it along with some of the most progressive approaches to people strategy that earns us multiple Top Place to Work classifications. While I used to sing in a Boston based cover band, I have zero awards for my performances on stage.
I will share two use cases from iZotope, where Agile HR has proven its power and we've delivered great results to the business.
Use cases of Agile HR inside iZotope:
Case 1: Fair Compensation
We wanted to build a more modern compensation philosophy and practice. We started off with research in neuroscience on the motivations and outcomes when people were asked to solve complex problems in their work and gain a monetary reward. Our early assumptions were that the more complex the work, the less likely a monetary reward actually increased the likelihood of a positive outcome. We set out to do a few experiments of our own to see how we could change the way compensation delivered value to our employees and to the organization.
Evidence proved that our current comp system wasn't bringing value
Most of our current system was based on subjective data that couldn't be backed up, resulting in lower morale and no definitive benefits. Like most companies, the system was built off a subjective rating system that resulted in a variable payout. Neither employees nor managers believed this was a fair approach. Tied with our research, we realized that people didn't work harder or smarter for a carrot at the end when it was related to knowledge work we were asking our employees to solve. We could find no evidence that we had a better quality product or the sales team worked harder to gain new business in order to receive a monetary reward.
Obviously we had to get buy-in from our CFO, but it ended up saving the finance team weeks of work calculating bonuses each quarter and working them into payroll. It was a win-win for employees and the company. The ideal agile outcome!
Rolling all variable bonuses into base salaries
Our first agile feature release is here: we rolled all variable bonuses into base salaries, even for our sales teams. As a result, we had the best year on record during the ever-changing landscape of the pandemic in 2020. While this change was not the only factor in our success, it was clear from our engagement surveys and overall results by product teams and individuals that we made the right decision, gaining not only in revenue but the trust and loyalty of our people during an unprecedented time of change.
Case 2: Customised Manager Training:
From here we've implemented many new programs based on the same approach. One of the new development we did through the Agile HR approach was customizing the manager training to deliver value to our leaders.
Now that managers were no longer spending a significant amount of time assessing and applying arbitrary performance ratings to their team members as a way to drive performance, we can apply new ways to drive results that matter. We tested this hypothesis and now invest in Leaders as Coaches training with new tools and approaches that drive value.
Involving managers in identifying needs
After inquiring with Managers on the top 3 things skills they felt would aid in their teams' success, we discovered this list of desired competencies.
Expectation Setting for Team Members

Managing through Change

Group Decision Making on a Cross-Functional Team
So, we built a custom agile manager training session specifically to gain mastery in these areas.
Next, we tackled the Annual Performance process. As we proved that subjectivity in variable bonuses resulted in negative outcomes, how can we not look at our other compensation elements with the same lens when we talk about base salaries, pay increases, and promotions?
By now, you can see how it starts to steamroll and allows HR to take long-standing traditional systems and change them into effective, modern programs based on our deeper understanding of our people…
While we still have a lot of traditional HR operations and business as usual, we're thrilled to continue working the Agile way when developing and redesigning people products and services.
Watch the Agile HR meetup with Stacie Justice
Our founder Riina Hellström hosted a great Agile HR meetup where Stacie and Riina discussed i.e.
Stacie and her teams' transformation towards Agile ways of working

How iZotope's cross functional operations leaders are doing quarterly planning of all operations together with the business leaders.