What is Business Agility?
Are you looking to adopt Agility in the business teams and different functions (beyond IT and software)?
Agile operating models are leading to faster time to market, high-value innovation, efficient operating models and capabilities to refocus on scale when needed. 
Business Agility is about creating future-proof organisations and teams, who can adapt to changing business and customer needs.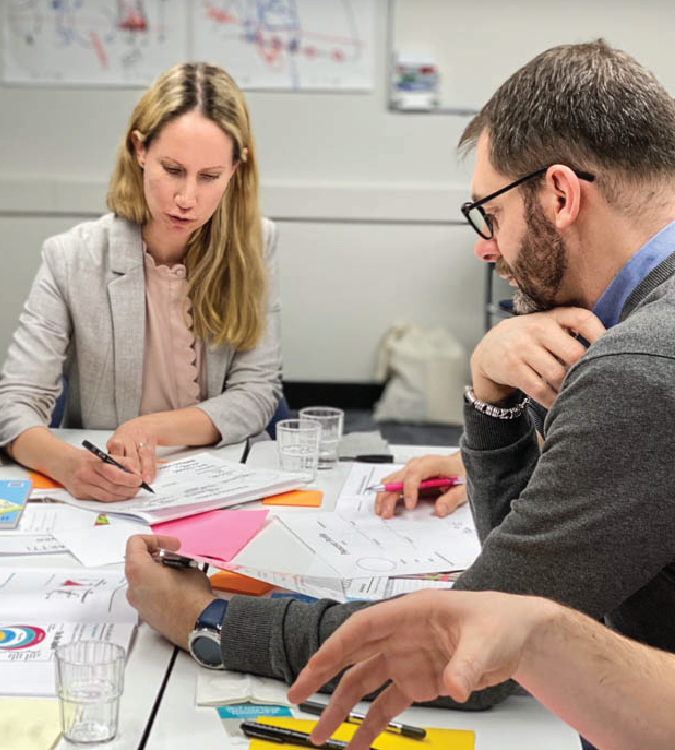 Shorter business planning cycles and adaptive strategy
Long term strategy work and annual planning cycles are shifting towards ongoing strategic dialogue and exploration, combined with frequent and adaptive business planning and rolling budgeting.
Agility is about capturing the opportunities, delivering value and avoiding risks using a frequent planning and feedback cadence.
Customer focus in a changing business environment
Agile is rapidly emerging as the new working paradigm and operating model.
Companies must respond to changing customer demand faster and gain competitive advantage through digital innovation and an enriched customer experience.
Agile operating models are becoming the norm to include customer centricity, user needs and user validation to our working process.
It's more about the mindset and behaviour, than tools and processes
Agility starts from how you think. What you believe in. Which then guides your behaviour and actions. 
This is why our recommendation is to start here. Invite people to establish a deep understanding of the principles, the mindset and the values behind agility. 
People are smart. Once they understand this, they will know where and how to use agility. Then they'll want to learn the tools. 
Tools and processes are helpful, but do not make you Agile. 
Agile roles & Agile steering
Many companies going through a transformation towards Agile and have hybrid operating model up and running.
The Agile side of business require new Agile roles and mandates. Leadership styles should be updated to fit the Agile organisation and teams.  
Decision making and steering mechanisms need to be redefined and dependencies across the organisation handled. 
Leading the transformation while being true to the human centric agile values is a craft. You can't push anyone to be agile. People can only choose to be Agile themselves.
Team based organisations, transparency, and faster decision making
What usually drives Agile development is the strategic aim to deliver more value to the customers, digitalisation of your products, and faster time to market.
The need for speed leads to an evidence based, incremental approach in value delivery, where self-managed teams make as many decisions as possible with a short cycle time.
It leads to minimising the steering, controlling and reporting. Teams are accountable, responsible and enabled. The team is the fundamental building block for Agility.
Agile change is an evolution, not an implementation
Evolving Agile organisations needs a very holistic and contextual approach. Becoming agile is agile.
Many aspects of your governance and culture will be impacted when working with Agile. Budgeting, KPIs, rewarding practices, team structure, mandates, roles, responsibilities, tools, line management roles…
As companies can't change all of this simultaneously, a smart, stepwise approach to Agility is a key to successful adoption and change on scale.
Agile organisations work by continuous improvement and feedback. This leads to iterative changes, constant small adaptation and ongoing dialogue. Agility is never finished. Agility is about developing an ongoing evolving organisation.
Training your business professionals and leaders in Agile
We tend to get great feedback when we work with business people in training programs:
Agile training without the IT-terminology.
Agile training can be tailored to include company internal approaches or workshops for adoption (i.e. Agile strategy, transformation approach, building the roadmap).
Our trainers have been closely partnering with Business leaders and led complex change ourselves, too!
Street credibility with plenty of examples from different industries.
We are OK to be challenged, and not pushing or "selling" Agility to anyone.
Build understanding through highly impactful learning methods. Interactive, fun, practical, exercises, hands-on!
We build in group discussions where participants can relate to their own company's situation and needs.
Scaling of your Agile model with the Agile HR Community
An Agile organisation is never "ready." Agile HR Community works very holistically with building the Agile mindset, principles and organisation with our customers.
We are not connected to a certain Agile Scaling model, such as SAFe, the Tribe model, "Spotify" model, Scrum at Scale or LeSS.
We know these models and have worked to establish some tailored Agile scaled models throughout our careers.
We know this domain so well, that we can help you modify the approach to suit your business, your maturity, your industry, your customers, your budget and your time investment. 
We can start small or go big. With our help you can crystallise what Agility means for you, where you would need to start, how fast you would prefer to go with your transformation, and if you would need a scaled model or not. 
Our take on Business Agility
Agile organisational development is an evolution of teams, people, structures, policies, processes, leadership and steering practices. 
An Agile organisation is about continuous improvement, it's never "ready". 

Being agile in becoming Agile
This is an evolving change, improving as you go. You can't implement Agility.
Team based model
Build self-managing end-to-end teams that can move fast, make decisions and respond to feedback

Strong vision
Clarifying a crystal clear vision for WHY agility is needed in your company
Modify Agile Frameworks
Tailoring the approach and transparently working with impediments leads to ongoing organisational development

Agile Values
Finding strong guidance in the Agile values, such as trust, transparency, adaptation and inspection. It's all about people and interaction!

Stop starting, start finishing
Agile starts with knowing what to spend the capacity on for maximising value. Ruthless prioritisation is key.
We are the pioneers of Agile HR, adopting Agile within people operations, change and organisational development. We are HR leaders ourselves and having worked with extensive change programs we know what people-centric change requires. 
We combine our extensive background in senior Human Resource Management and Organisational Development with on-the-job experience applying Agile mindset and methodology across a wide range of industries and organisations.
The Agile HR Community is a direct answer to the gap that currently exists between what is delivered by Agile consultancies with an IT-background and the real world where companies need to design Agile, digital and networked organisations across all business functions.
Also – we aren't pushing or upselling any models. Our aim is to make ourselves redundant by building Agile leadership capabilities within your company. 
Why is it so powerful to train leaders in the same foundational Agile principles?
Building a strong and impactful foundation will lead to better adoption and smarter modifications of Agile across the company. When training all your leaders to have the same foundational understanding of Agility they can have more valuable discussions cross-functionally about how to build Agility. They are also able to co-create how their respective functions should adopt Agility and challenge each other constructively.
Example:
We delivered Agile Business training and workshops to a group of cross-functional leaders in a Hardware company. The Sourcing executives and Supply Chain leaders started identifying key dependencies from their operations towards the Agile R&D function, realising that some of their ways of working is blocking Agility in R&D. They identified how to influence and be active in the early stages of product backlog building and clarified the areas Supply chain and Sourcing need to modify next to enable Agility.
For example the sourcing professionals identified "Agile contracting" as a key gap. Supply chain realised how they need to start being clearer on modularisation and component choices towards early R&D. While Agile HR Community isn't the Sourcing, category or vendor management expert, we are great at facilitating the conversation among these specialists.
This leads to the leaders identifying gaps and improvements themselves. Which, in turn leads to more impactful change, not led by consultants!
Join this happy bunch and enroll for training!