What is the Agile HR Mindset training program?
Agile HR is a very exciting and a topical theme for all HR professionals, no matter which industry or what level of expertise or length of experience you have. Agile HR is changing how we approach our whole profession and design excellent employee experience in the competitive talent market. This program is lightweight and excellent for HR teams who need an introduction and inspiration.
The Agile HR Mindset training program influences the mindset, the thinking and the attitude of HR and people professionals. This program serves as a kick-off and inspiration to see our HR work from a modern, "people first" and business value perspective. Our Agile HR Mindset training shakes up and wakes up, usually building enthusiasm and interest in trying, and learning more!
You'll learn that Agile isn't rocket science, instead a very down to earth – common sense approach to getting things done in a changing world of work and that understanding Agile is valuable in all HR work, no matter if it is operations, strategic or services.
Why should you attend the Agile HR Mindset training program?
Your HR team is forward thinking, and want to learn about Agility.
You want to have the whole HR team on board with the Agile mindset.
Part of your HR team or company is working Agile, and you want to onboard others to the Agile mindset.
You are looking for a lightweight workshop to begin with.
You want to have an inspirational kick-off for your HR team!
You will meet with your whole HR group, and want to influence on scale with a very relevant content.
The Agile HR Mindset session was a great introduction to Agile for our People and Culture leadership team. Riina delivered an engaging and tailored session that got us all thinking; the time flew by. We had been looking to see how we might leverage Agile methodology to help us better prioritize our work, manage capacity, and be more effective. As a result of this session, we are now exploring what Agile HR aspects we are going to start on as a team – we have already created our team Kanban board!
Caroline Schein, VP People & Culture at Article
Benefits of the Agile HR Mindset training program
You will have a common understanding of what Agile is and what it isn't.
Your team understands the Agile mindset, and is open to learning more.
You'll learn about Agility in your own language, we speak "HR and people operations".
Your team can start identifying where Agile works and where it doesn't.
We're not advocating for a certain Agile model, we speak about the basics of Agility.
We're not trying to convince you or sell Agility to you. We trust you to be the best to judge if Agile is valuable in your own work.
You will have a good foundation to start learning more about Agility, tools, practices, methods and agile leadership.
Content of the Agile HR Mindset training program
How are we learning?
The virtual delivery  is split into two 1.5 hour sessions. In between the sessions the participants will have a group work and reflection session on their own. In the sessions we alternate between sharing Agile information and examples, with breakout conversations in small groups where the participants  reflect on what they heard and connect it with their own context and work.
We're discussing why Agile is important, what Agile is and how it differs from the traditional way of delivering value.

The Agile mindset and values.

Customer and user centricity in building Employee Experience. Co-creation and validation examples.
Try out a design thinking tool (personas) in your small group. Bring insights to session 2.

Reflection & Discussion about Agile in your own work.
Insights from the group reflections.

What is Agile HR?

How can we start bringing agile alive in our people, HR and culture work? Where is it relevant, and where is it not?

Mini introduction to Kanban boards - visualise work in your team!

Who is this training program for?
HR, people, talent, culture, change professionals and teams
All people professionals with any experience level
For people who need an impactful introduction into Agile
Process owners, HRBPs, Centers of Excellence consultants
HR/IS professionals and people who are developing and sourcing IT-tools for employees
Suitable workshop for HR gatherings, meetings and kick-offs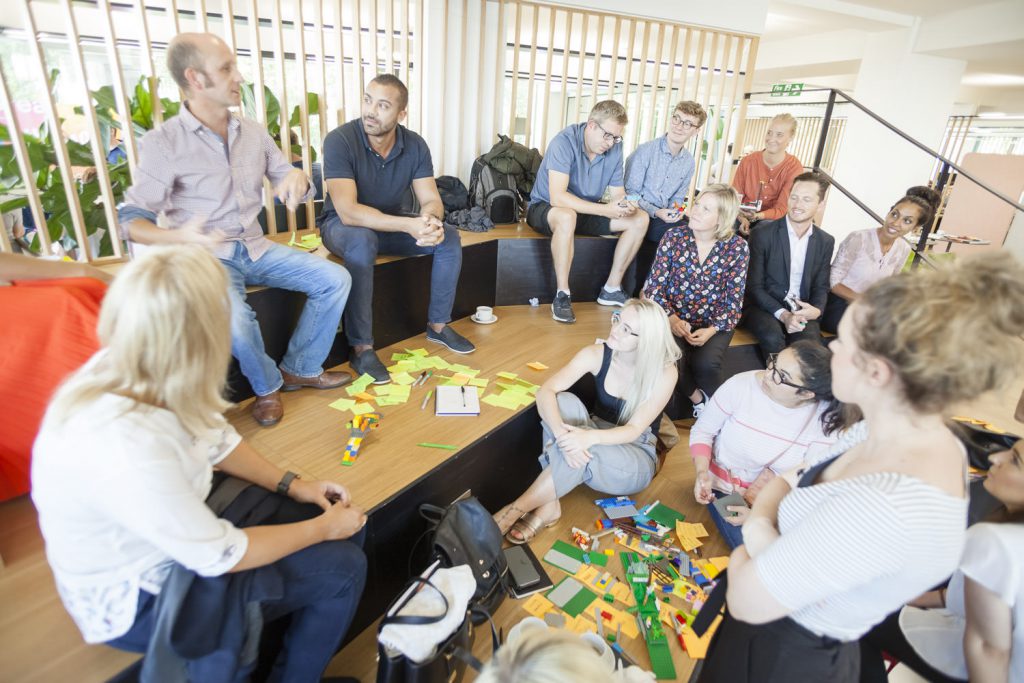 For in-house virtual deliveries 310 EUR/person + applicable VAT with a minimum of 14 persons
We recommend digital delivery, it's been working very well!
You can ask for possibilities and pricing for a face-to-face delivery.
This workshop can be combined with extra coaching sessions for teams, or with further in-depth training programs for some participants.
The maximum number of participants is 50 persons