Training, consulting and transformations
Your partner in all things Agile
Through building shared value between customer, business and the people we'll help you succeed in an increasingly complex business world and thrive in constant change. We do training, facilitation, change programs and consulting.
Certified Agile HR and Business Agile training programs

Deliver products that users love

Design excellent people experience

Build human centric workplaces, leadership and cultures

Lead agile transformation

Global reach with seven languages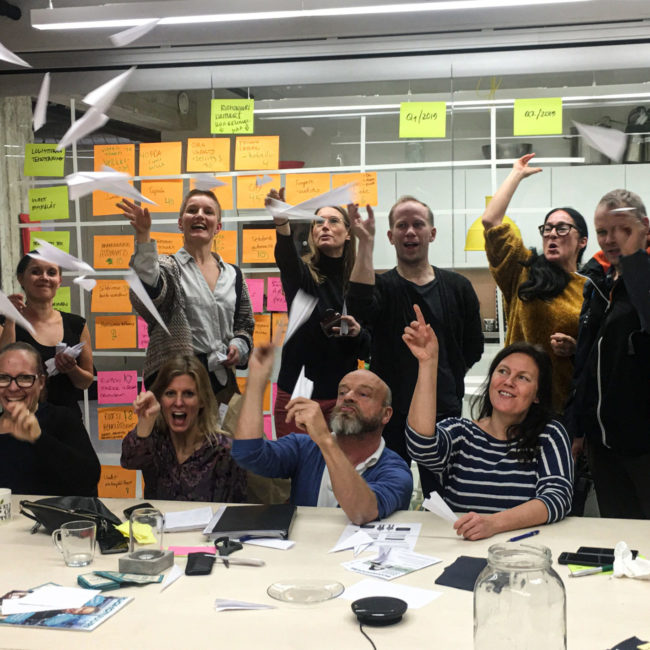 The Agile HR Community is about co-creating a healthy future of work, building excellent customer and people experience and delivering more value in less time. We coach organisations and people to navigate the continuously changing world successfully, developing high performing and healthy teams.
Transforming the fundamental principles of Human Resources into modern People Operations leading Agile, digital and networked organisations.
Building adaptive and impactful people operations and delivering more value to the business.
Responding to people centric expectations and DE&I needs, by co-creating excellent end-to-end people and employee experience.
Establishing self-managing teams in People Operations. Bringing innovation, feedback and cross-functional collaboration into our work, making HR fun again! 
What is
Business

Agility?
The agile approach is transforming the fundamental principles of how value is delivered to customers.
Agile is about moving companies towards:
Customer centricity in all we do
Maximising innovation and value delivery
End-to-end product thinking
Ongoing feedback structures
Quarterly and monthly prioritisation
Networked team structure with self-management
Transparency into all work
Realistically balancing load with capacity
We deliver Agile HR and Business Agile trainings for HR and non-IT professionals and leaders.
Our certified Agile programs for HR, business professionals, Product owners and Scrum Masters are highly appreciated for their practical application and a learning-by-doing approach.
 Agile is for everyone,
not just IT and tech. 

For you who are looking for a partner who can translate Agile to business people and non-tech people, and deliver impactful, energising and active hybrid/digital workshops. 

An ongoing learning network where we share stories, ideas and case studies in applying Agile and Agile HR. Come and hear great speakers and take the chance to network with Agile HR enthusiasts.

How do you build Agile HR teams? We'll hep you navigate Agile HR Operating models,  Agile portfolio management & governance models, and Agile HR Strategy. We coach Agile HR teams to success.

Consulting in Agile change and business
If you are looking for an Agile transformation partner, with years of experience across industries and an agnostic take on Agile models, look no further! We are all about modifying the Agile approach to fit your company's purpose and maturity.
Over 20+ years of experience in leading change, 10+ years in leading Agile transformations.
Several transformations, Agile models and different industries later we know what works, what the key moments are, and where it can go wrong.
Agile HR Community meetups
Agile HR Community hosts a number of community meetups throughout the year, which are all completely free to attend. 
These meetups offer a unique insight into how Agile HR is transforming companies of all sizes, from small teams to large Fortune 500 organisations, across a multitude of industries.
You can find out more about our Agile HR Community meetups at the link below, or go through to our YouTube channel to explore some of our recent sessions.
Agile HR Community Meetups
Deliver Value in a Changing World of Work
An essential guide for all HR practitioners wanting to make their HR practices Agile and drive business performance but don't know where to start.
"This book brings
the best
of Scrum into People Operations"
Jeff Sutherland, Founder and Chairman, Scrum, inc
We explored how an Agile approach to introducing & evolving HR technology can accelerate everything from decision-making to deployment.
From recruitment to employee engagement, the application of AI in HR is vast and transformative. So, in this article, we will delve into nine
We work with
customers

in all industries, locally, regionally and globally, in many different languages.
Our trusted network of experienced partners, consultants and trainers offer you the comfort of centralised program management with decentralised high-standard delivery.
Agile HR Community is a unique, small company with a big heart and global reach.