What is the Agile Business Mindset training program
Most industries are now facing a business environment that requires more adaptive strategies, iterative ways to deliver customer value, and quicker adaptation of the investment of resources, people's effort and budgets. Agile is a direct answer to the needed ways of working, the mindset and the skillset needed from both leaders and business professionals. Companies are moving from annual plans towards quarterly adaptive planning, redesigning organisations to enable a team based model, digitalising services and products.
This training program answers the "why agile?"question from a business perspective and influence the mindset of the participants to be more open and appreciating the Agile approach. With this short program we've succeeded in influencing the mindset and creating the foundation to understand Agility in a similar way for hundreds of leaders and business professionals. This lays the foundation for your business people to start enabling Agility, to start learning about leading Agility, and to start understanding that we need new structures, policies and leadership to build agile organisations.
Why should you attend this program?
Your organisation is moving towards Agile operating models and you want to understand what this means.
You want to get the whole leadership team on board with the basics of the Agile mindset from a strategic & business perspective.
Part of your organisation is already working Agile, and you others to understand what it means.
You want to have a lightweight, energising kick-off of your Agile journey.
You want to start a dialogue on why your own organisation should adopt Agile as an operating model.
You want to wake up and shake up your people to see the value of the Agile approach!
You want to onboard hundreds of people to Agile in a very short time, through high impact and energising digital delivery.
This is the first time someone could actually describe and explain to our leadership team what Agile means for our function, and guide ourselves to reflect and define how our leadership team needs to enable change
Benefits of the Agile Business Mindset training program
You get a common understanding about Agile and the Agile mindset in your team.
You'll learn about Agile in your own "language, not in "IT". We have worked with businesses, commercial, operations, supply chain, strategy, management and organisational development.
You will start recognising where agile works and where it doesn't.
We are not advocating for any certain Agile model, we speak about the basics of Agility.
We're not trying to convince you or sell Agility to you. We trust you to be the best to judge if Agile is valuable in your own work
You will have a good foundation to start learning more about Agility, tools, practices, methods and agile leadership
You'll learn how Agilist think, and why they think that way. There's a logic, there is a mindset and there are values.
Content of the Agile Business Mindset training program
How are we learning?
The virtual delivery is delivered in two 1.5 hour sessions by Lead Trainers, with senior experience in management development and organisational development.  Discussions and reflections are done in breakout rooms, connecting what you learn to your own company's situation and needs. Between the sessions we will tailor a suitable group discussion/reflection with you to connect Agility to your context.
A face-to-face delivery is a 3 hour session, facilitated by our amazing trainers. We'll present the background and theory in an energising way, connect some exercises to it, and have short reflections in small groups. We highly recommend to book internal self-managed discussions after the workshop, to deepen the contextual approach in your own company. (Face to face workshops delivered only if the Covid19 situation allows)
The WHY of Agile and connecting it to the customer value, digitalisation and business strategy in a very concrete and practical language.
Evaluation of traditional organisation design and management are not fit for purpose any longer.
Customer centricity and value to the customer
The impact of Taylorism on our organisations and management.
Requirements for agile: Incremental delivery of value, feedback loops and ruthless prioritisation.
For digital reflections happen in between sessions.
For Face-to-face we recommend to build in reflection after the workshop.

Reflection in small groups on the company's own context.
Where would agile be a preferred approach?
What are your burning questions around applying and adopting agility?
Introduction to Agile ways of working such as Scrum and Kanban
Agile Mindset: Insights and stories about the Agile mindset in organisational design, team setup, leadership
Brief introduction to what Agile organisations look like. What does it take to develop agility?
Reflections and Q&A

Business teams - mixed or functional (such as Commercial, Sales, Supply Chain, Sourcing, Logistics, Communications) and any level professionals
Leadership teams
Boards and executive teams
Customer representatives who need to understand how an Agile vendor works
Vendor organisations who need to understand how an Agile customer works
Stakeholders and sponsors of an Agile team or Agile program who must understand the Agile delivery model
For a scaled start of an Agile transformation journey - ramp up understanding super quickly!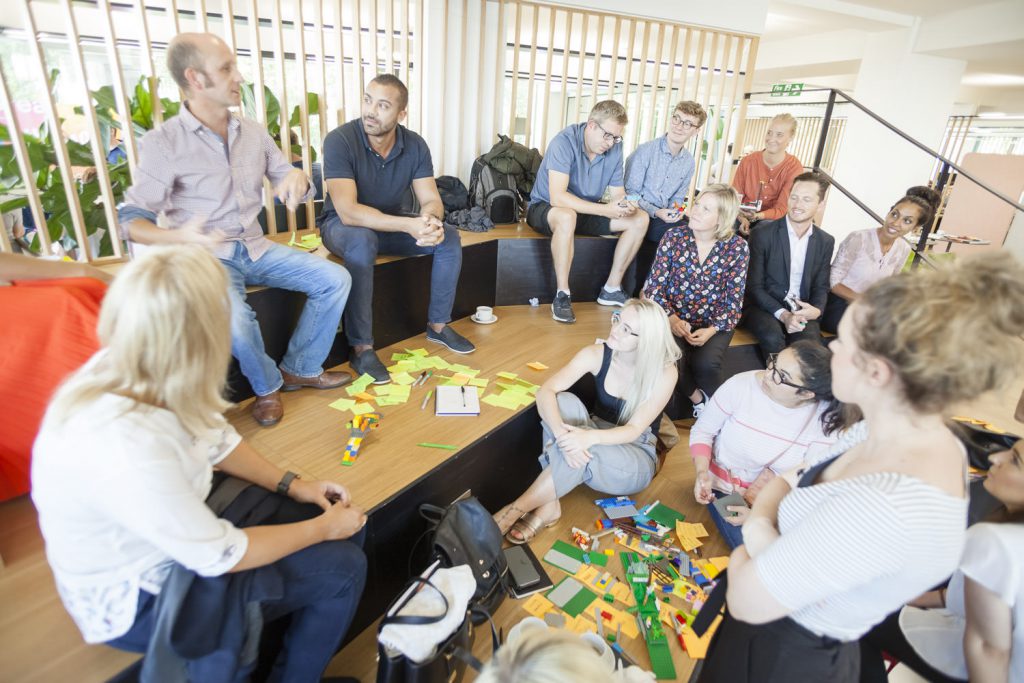 For in-house virtual deliveries 310 EUR/person + applicable VAT with a minimum of 14 persons
We recommend digital delivery, it's been working very well!
You can ask for possibilities and pricing for a face-to-face delivery.
This workshop can be combined with extra coaching sessions for teams, or with further in-depth training programs for some participants.
The maximum number of participants is 50 persons