Agile Consulting & Coaching
Are you developing a more adaptive, agile and resilient organisation? 
Agile Transformations, organisational development & executive support
Redesigning people operations and HR
Agile team support
Adaptive strategy & agile portfolio management for business and HR
Leadership Development
Designing and delivering excellent Employee experience
Facilitating workshops, change and strategy co-creation, and large-room planning sessions.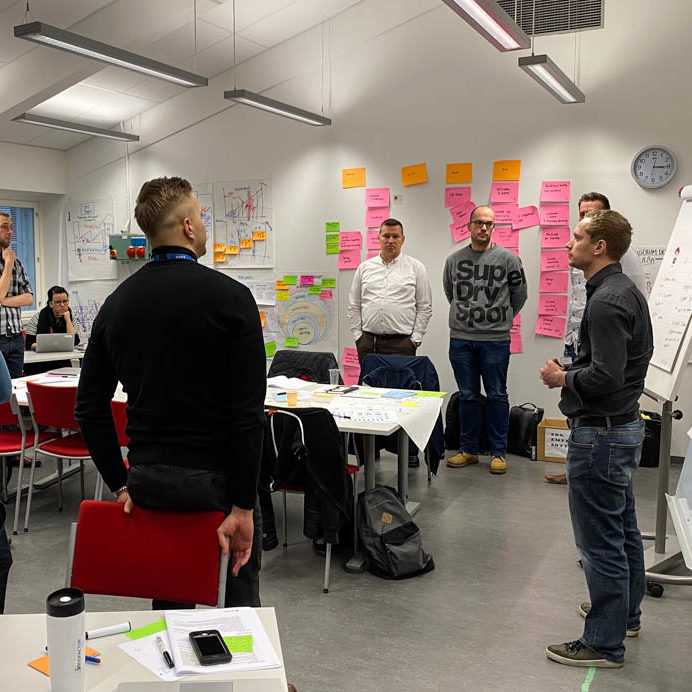 We're specialised in
Agile organisational development

for non-IT operations.
For you who want to establish adaptive and agile ways of working, without using the IT-language.

We have worked with Services, Product Development, Manufacturing, Operations, Sales & Commercial, Supply chain, Sourcing, Quality, Communications and HR.
Initial stage agile teams
We help teams in all maturity stages to set up and lead their adaptive ways of working.  In the initiation stage we upskill the team.
Agile team delivery coaching
We coach and support the teams in starting the agile projects, setting up the ways of working and adopt a cycle of continuous improvement.
Mature team performance
For more experienced teams the coaching dives in on performance, communication, wellbeing and amazing team work.
Building Scrum Master and Product owner capabilities
We train, build communities, and do coaching of Scrum Masters and Product Owners, who appreciate someone more experienced to speak with, when encountering challenges between traditional and agile operations and among the agile team.
Agile team coaching
Scrum Masters for non-IT teams
Kick-offs for Agile teams
Developing Scrum Master
Why Agile?
Establishing a common understanding of what Organisational and business agility means is one of our strengths. 
Agile change consulting & facilitation
We deliver workshops for leaders to agree where, how and when to start a transformation. Then advise and facilitate the transformation. 
 Adaptive strategy and planning
Agility requires an adaptive strategy and frequent business and operations planning cadence. We facilitate prioritisation workshops and setting up the quarterly planning process.
Scaled strategy communication and workshops
We design, plan and deliver scaled workshops over hundreds of participants for strategy communication, change initiation, involvement and innovation. 
Agile leadership development
Design and facilitation of workshops to Leadership teams
1-on-1 business coaching sessions for Leaders
Facilitation of strategy development, change program workshops. 
Design and facilitation of business prioritisation events, quarterly planning meetings, adaptive strategy updates. 
Planning and supporting organisation wide change and transformation programs and communication.
Agile for HR & People operations
Onboarding large HR teams
We help your teams get onboarded and energized around Agile HR, build professional capabilities in Agile HR. We can scale understanding the agile mindset across large, international HR teams in a short time. 
People operations transformations
Support in redesigning your people operations, roles, teams, and co-creating a change path together with your people. CHRO's and Change program leads also find value in an extra brain and sparring partner. 
Adaptive people strategy & planning
Building the people operations agile steering structures, including and adaptive and agile HR strategy, quarterly portfolio planning across strategic, tactical and operational HR work.
Employee experience consulting
We'll upskill and coach your people and culture teams through your real employee experience projects. With our guidance they will design, test, validate and implement new HR/people practices. Programs between 1-6 months where HR teams do real process/service changes. 
Agile HR Consulting
Agile HR Coaching
Design thinking in HR – facilitation of redesign of people operations and processes
Employee Experience consulting
Agile organisational development
Change design and facilitation
We're respecting the history and achievements, while stretching the people to see what's necessary for the future. Our experience spans very agile tech companies all the way to very traditional global corporates and their functions. We don't come with ready made solutions, we co-create the change fit to purpose and your context. 
Scaling Agile in non-IT functions
We've worked with different Agile scaled models in multiple different industries. (SAFe, LeSS, Scrum at Scale, Tribe model, and have a library of other models for different scaling needs. Scaling agile can be done in a more organic way or through a more centrally influenced way. We'll support you in either. 
Leading Agile Transformations 
Lead Enterprise Agile Coach roles are sometimes hard to find. Instead of leading your transformation for you, we'll lead it with you.  Agile transformations in Business Units, Regional areas and medium to large companies and influencing people on scale. 
Agile transformation consulting
Scaling Agile in non-IT business units and functions – Advising, consulting and change program facilitation
Design and facilitation of new strategy adoption across your organisation
Design and facilitation of invitational and human centric organisational change
Snapshot of our case studies
Upskilling the Talent Acquisition in Agile combined with professional HR Scrum master support took the team to a totally new level of engagement and delivery.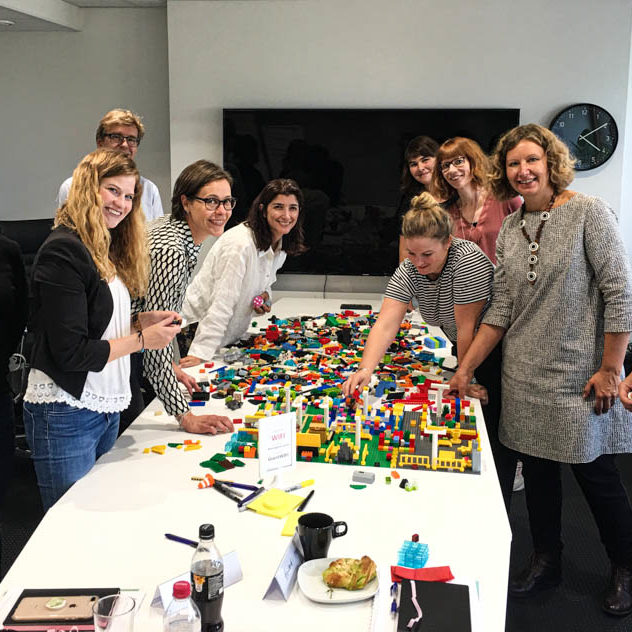 Customer: Global corporation in the hardware industry with 50.000 employees
Training hundreds of leaders and managers across the company businesses, countries and functions to understand business agility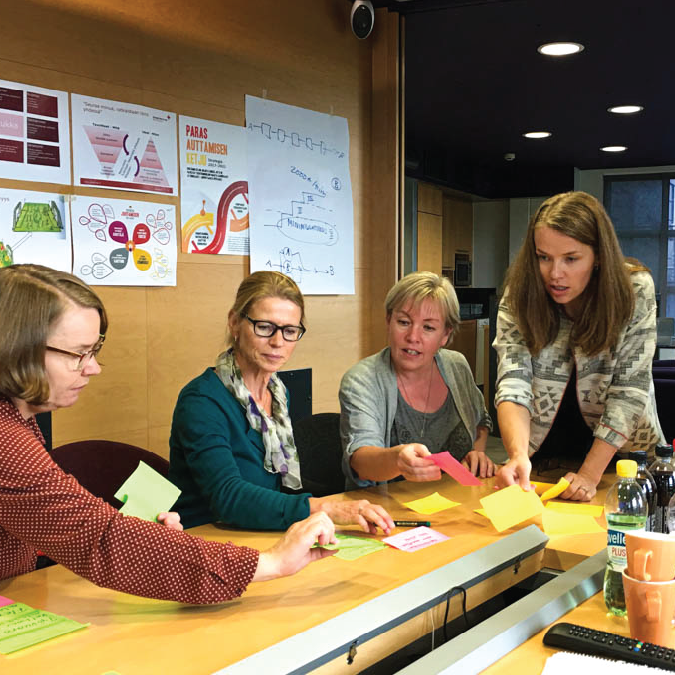 Customer: VERO – Tax Authority in Finland, 3000 employees
Executive team development and support to lead the most extensive change program in the history of the Tax Authorities.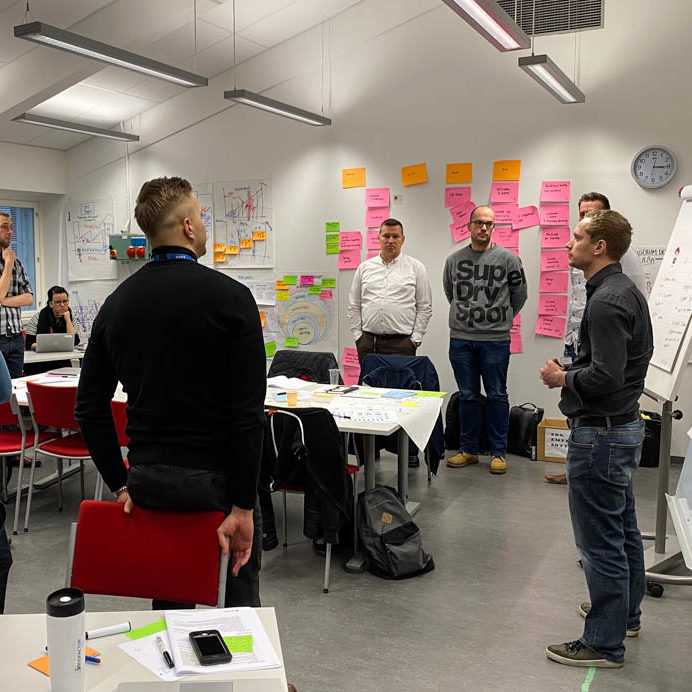 Looking for in-house Agile training?
Our programs are loved by non-IT folks, because of the hands-on approach that is preparing people to adopt the Agile practices and lead Agile