Scrum is the most used framework for Agile work in product development and agile teams, over 70% of teams say that they are using Scrum, or a modification of Scrum as their preferred framework. We specialise in training and certifying non-IT Scrum Masters, outside software and IT.
What is a Scrum Master?
A Scrum master is a facilitator, a coach, a role model and catalyst for Agile ways of working. The Scrum master is preparing and facilitating the Agile team's meetings and supports the team in improvements.
The Scrum master is supporting the team in planning and collaborating. Without a hierarchical position the Scrum Master helps the team and the Product Owner to stay focused, communicate clearly, avoid misunderstandings, prioritise, make decisions, and engage with stakeholders.  The Scrum Master is a guardian of the "HOW" the team is working, being able to guide the team to adhere to the agile principles, frameworks, practices and values and continuously coach the team to improve.
Why should you attend this training program?
You are passionate about helping teams succeed and perform, do well and be healthy.
You want to pursue a career as a Scrum Master - with the ability to work not just in your own function but across the business (Scrum mastering is a profession!)
You want to support your team to be self-managing and autonomous.
You'll be learning by working through Scrum and thus prepared to take on your Scrum Master role in a non-IT team.
We use non-IT examples that connect easier to your work than software focused trainings.
You'll walk away with a beginner's Scrum Master Toolkit!
You will deeply understand the agile mindset and the difference to traditional management thinking.
You see your role as helping others succeed in their work.
You want to move from a HRD/OD or HR facilitator role towards the business and product unit roles
"This training gives good basics for scrum mastering and helps you to grow your toolkit which is helpful in scrum sessions."
"The training was very inspiring and motivating for a person who considers himself an introvert : )"
"Good insights to scrum master role that you most probably didn't know"
Benefits of the Scrum Master training program
The essentials of Scrum is understood
Building a beginner's Scrum Master toolkit with your Scrum team
Practical - using Scrum in your team to deliver value to the whole Scrum Master cohort.
Works for all organisational contexts, from full Agile to hybrid or just starting with Agile.
Learning in groups
A lot of tips about facilitating Scrum events.
Previous knowledge of facilitation is preferred. Scrum Mastering is a lot about facilitating events and meetings, but we will not go through the basics of facilitation in this program.
Personal learning journal, lightweight self-directed competency assessment and development plan as a Scrum Master.
Certification awarded by participation in all sessions, participation in Sprint work with your Scrum team, skills assessment done, personal development plan updated.
Format for the Scrum Master training program
We are using the agile format to learn. In the program you'll be setting up Scrum Teams. We will run four 1-week modules where you will learn in a bite-sized way
Self-studies (0.5-1 hours per module) : Pre-sprint self-studies, case studies and videos. You'll learn the "theory" in our digital learning system
Live session (2,5 hours per module): Virtual live session where the trainer walks through key concepts, presents tools and methods. This is where we have Q&A's and discussions. In the live sessions we are also doing sprint planning with your Scrum teams
Sprint, Review and Retro (1.5 hours per module): You'll work on the Sprint with your Scrum team during the week. You will also run a Sprint review and a retrospective (self managed online session). Here, you will be taking turns trying Scrum Mastering.
Personal reflection: Participants reflect on their own context and assess their skills in each Sprint. By the end of the training this self-reflection creates an understanding of which parts of Scrum Mastering they want to develop next.
Module 1: Basics of Scrum & Scrum Mastering + Sprint planning
Getting familiar with the Framework of Scrum. Roles, events and artefacts of Scrum.

Creating your first Backlog and Sprint plan

Choosing Scrum Masters for the sprints

Update personal development plan
Module 2: The Scrum Master Role & SPRINT 1
Learning about the Scrum Master role.

Strengths, weaknesses, do's and don'ts of a Scrum Master.

Preparing to facilitate the first sprint with Scrum team

Running Sprint 1 with your Scrum team

Update personal development plan
Module 3: Scrum Values and Agile Principles & SPRINT 2
We're focusing on how to live up to Scrum Values and principles and continuously support this in the organisation, team and yourself.

Sprint planning for Sprint 2

Running Sprint 2 with your Scrum team

Update personal development plan
Module 4: Demo facilitation, do's and don'ts of a Scrum Master, Practical tips for facilitation & Final retro
Running a demo on your product and getting feedback

Discussing how to run great demos

Deepening the understanding of the Scrum master role.

Scrum Patterns and tips for facilitation.

Running an final retro with the team & finalising personal development plans
Who is this training program for?
This training program is for professionals who want to start developing and supporting high performing teams through improving Agile ways of working.
Your organisation is moving towards Agile operating models and you want to support the teams in this transformation.
You want to learn how to set up Scrum teams in a non-IT surrounding.
You'd love to move from a HR role to becoming a Scrum master and Agile coach for business teams.
You are a team leader who want to support your team to be more self-managed, make decisions and collaborate better together. (Scrum master skills are very relevant i.e. as a team leader or project manager role nowadays)
You already know some facilitation and are familiar with planning and leading meetings, and now want to take it further towards the Agile and Scrum domain.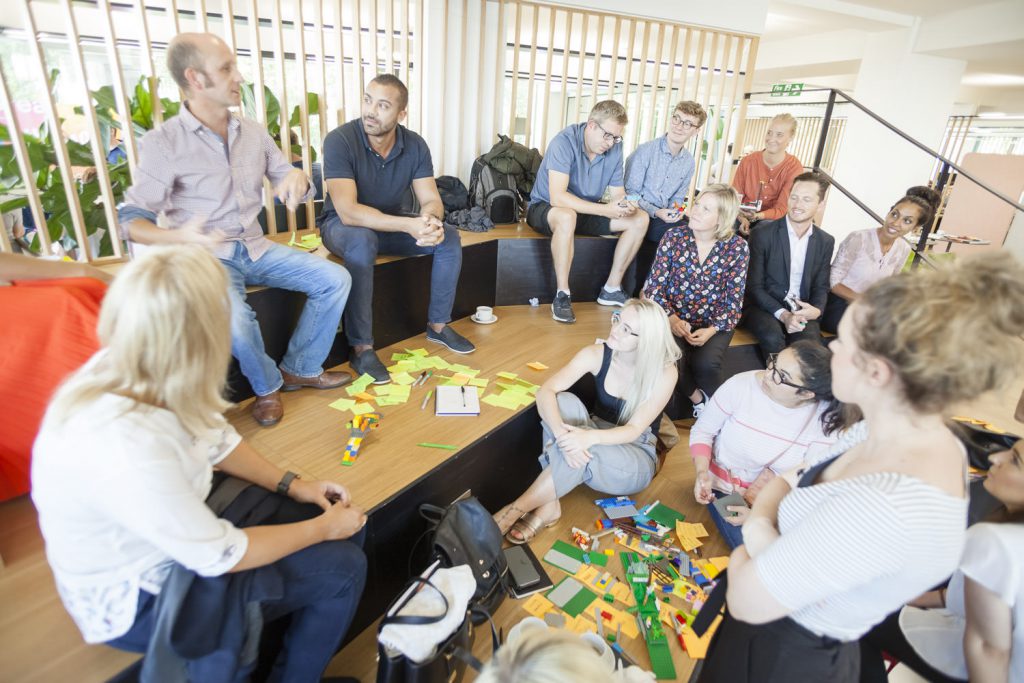 "Scrum Master – Certification by Agile HR Community" and the Scrum Master e-badge is awarded to participants who
Participate in all live sessions

Participate in all group Scrum sessions and had a final retrospective in their project

Have tried Scrum Mastering and/or offered feedback to a Scrum Master student

Submit their self-assessment and development plan

Trainer assesses that the Scrum Master development plan has been done in a professional and serious manner, with clear development objectives.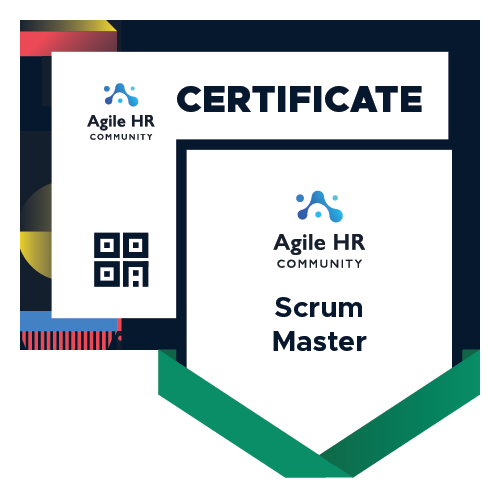 1600 EUR/person + applicable VAT for one person
1440 EUR/person (-10%) + applicable VAT for two persons on the same program ***
1360 EUR/person (-15%) + applicable VAT for three or more persons on the same program ***
***Must be booked at the same time under the same invoice.
See training calendar for public training program scheduling.
Ask for pricing for more people, or tailored in-house deliveries