What is the Agile HR Essentials training program?
Learn about the Agile HR Essentials through this interactive and engaging training program.
This learning is a blended training program with self-studies, live learning sessions, experience based hands-on learning and a lightweight group work. Understanding the Agile mindset and try out Agile practices such as building of a backlog, prioritising and thinking what to deliver first, planning a sprint, working together in the exercise to build a product, reviewing in your team and improving your collaboration in retrospectives. In small groups you will also look for examples of Agile HR within your own domain area (i.e. Agile in L&D, Agile in Recruitment, Agile in Service centres..) and share insights with others.
This program has inspired people to rethink what HR is all about. This workshop offers a modern, human centric mindset for us in HR, with practical examples directly from the HR reality. The tools provided in class have been very appreciated,  additionally to the brilliant sharing and conversations with peer HR participants.
Why should you attend this program?
Learn the fundamentals of Agile in HR.
Tailored for HR professionals by HR professionals, not tech-oriented Agile
Intensive, practical and interactive
Connect with your work through examples, examples, examples!
Immediate application of the Agile HR mindset and tools to real HR topics
For all HR professionals who want a more hands-on introduction to the theme of Agile HR with practical tools to take away
Virtual delivery : Live digital sessions with small group work between sessions
Face-to-face delivery: One day session (not delivered F2F during Covid19)
Find examples on Agile HR in your own domain, inspiring other learners
No previous knowledge of Agile required
The program is awarded with a Badge, Agile HR Essentials by Agile HR Community
"If you are a beginner in the Agile practice, it's an eye opener to better understand how it should look like, what to expect, and what is expected of you. "
"A resourceful, interactive Program I would really recommend to attend"
Benefits of the Agile HR Essentials training program
Understand why organisations are 'going Agile' and the implications for HR and the future of work
Gain practical tools that you can apply in your own personal HR work immediately.
Start introducing customer centricity to your own work and build human-centric HR.
Support self organising agile teams through your HR work.
Boost your own productivity and effectiveness through using Kanban and backlogs for focus, clarity and prioritisation.
Format for the Agile HR Essentials training program
Individual learning: digital pre-reading and/or videos with inspiration about Agile HR and the basics of Scrum
Two live learning sessions with a professional trainer. In the live sessions we will discuss, learn the basics of the Agile mindset, get plenty of examples, and practice
Group: In between the live learning sessions you will have group discussions and do research on Agile HR examples. You will bring your top 3 examples with your group to the session and present that to another group. The other group will then evaluate and give you relevant feedback about your examples
Reflection and sharing of ideas on where agile would work and where it would not.
The sessions are not recorded, the learning builds on presence and practice. We work with digital tools such as Miro.
You will need to login with a computer, in a private space, able to talk, share and use the keyboard. In our trainings we are present with the video on.
Click on the tabs to read more about the flow of the class and time commitment (Pre-learning, Session 1, Group work, Session 2)
Pre-learning
The training starts with digital self-studies, 1-2 hours

Introduction to the Agile mindset and examples to inspire you.
Session 1 (3-hour live session)
The Agile Mindset and why Agile is important now?

When is Agile the suitable approach?

Empathizing with our users, an example of using personas in HR.

Scrum Exercise: Sprint 1
Building a backlog, prioritisation, planning a sprint, working in the sprint, reviewing the results and having a retrospective.
Group work
1 hour online (self-organised by groups)
Between sessions: Group work in your small group
Find examples with your small group on Agile HR in your own domain area, and prepare a 5 minutes presentation of your insights.
Session 2 (3-hour live session)
Reflection

Scrum Exercise: Sprint 2
We will run another sprint to experience the improvement from Sprint 1 to sprint 2.

Agile HR Examples – presentations from small groups

Insights and conclusions
Wrap up
Your organisation or HR team starts practicing Agile ways of working and you want to learn the essentials of Agile HR.
You want to strengthen your Agile mindset - and understand how it changes HR.
You are looking for inspiration and real life examples on how to start modernising the HR work.
You have too much on your personal to do list, and want to learn a method to focus and prioritise and collaborate in a team
Your team wants to start working in an Agile way, and you want proper introduction to the whole team
You want to take the first step in getting your Agile HR skills acknowledged by a professional body through a digital badge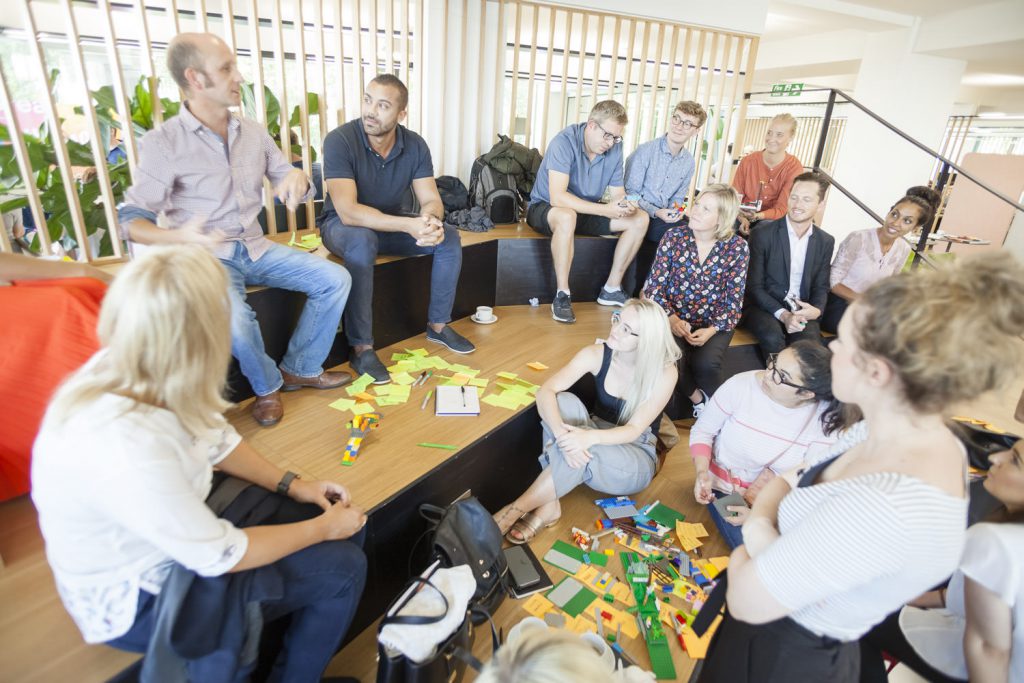 Agile HR Essentials digital badge
By participation in all sessions, by doing your group work, and by finishing the digital learning  you will be awarded with the program's e-badge.
The badge is individually awarded and hosted on Accredible with a description of the learning objectives and requirements for receiving the badge.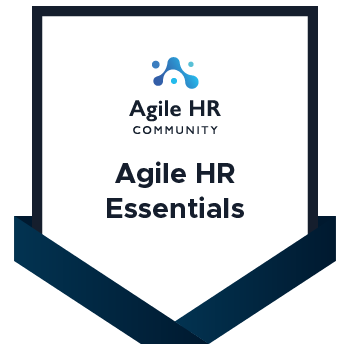 Agile HR Essentials digital training program, in-house deliveries 690 EUR/person + applicable VAT with a minimum of 14 persons.
For in-house face-to-face deliveries 790 EUR/person + applicable VAT + travel- and material costs with a minimum of 14 persons (face-to-face workshops delivered only when the Covid19 situation allows)
The maximum number of participants is 24 persons