What is the Design Thinking in HR training program?
Design thinking is a whole body of knowledge around how to build user centricity, customer value and rapid innovation and validation into product and service development. Design thinking in HR has become a huge theme.  This training program will onboard you to what design thinking is all about and offer you tools and templates that you can use immediately in your HR work.
You'll work through a real design sprint, stepwise trying the tools to solve an HR or business problem. This program builds on hands-on learning and application and is awarded by a certification for evidencing design thinking skills and application in your real work.
Design thinking tools and practices will help you innovate and co-create and develop HR products and services that your people will love! Design thinking deeply connects with DE&I values, and using design thinking tools, methods and practices will help you build in DE&I approach into your every product and service.
Why should you attend this program?
Your HR team wants to get ready for the future!
The Employee Experience is crucial for you, and you want to ensure you develop people-first solutions
You are seeking to redesign a people practice or process, and want to design a fantastic experience
You want to influence a whole HR team to incorporate design thinking into your work
You want to build great places to work and attract the best talent
You will be implementing HR IT systems or tools, and want to know your users and cater for their needs
You want to put the human back in Human Resources and ditch the "resources".
DE&I is central to your company, and you want to ensure your HR practices are inclusive.
"The fast pace and creative collaboration with fellow HR professionals from all over the world was super inspiring! Now I know how to bring user and customer centricity to everything we do in HR…"
"…The active hands on experience was so much fun! Additionally I can use what we learnt immediately in my own organisation and work."
Benefits of the Design Thinking in HR training program
Understand how will hold the user and customer at the heart of HR
Gain practical tools and evidence-based methods to start applying Design thinking and customer centricity to your own work
Co-create a great employee experience using design thinking
Learn a structured way to ideate and innovate together with your peers!
Bring DE&I alive in all of your people products and services
Immediately apply design thinking tools and mindset to real HR topics
Make HR FUN again!
Format and content for the Design Thinking in HR training program
Your learning will be experienced through an interactive and energising design sprint of 3 weeks
The learning is experience based learning and your presence and interaction is needed in every step of the program
You will work in small groups with an example case using templates throughout the class: redesigning an onboarding process or reimagining the exit experience.
You will be alternating between live facilitated sessions and self-managed group work
Your learning is supported by the pre-learning materials (videos and instructions) and further digital material to deepen the learning
You will be learning by experiencing, doing, and having a lot of fun!
You would need to log in via a computer or a laptop, and be ready to speak, write on the keyboard and be on camera when working in the smaller groups. Prepare to log in without distractions from a calm place.
You will evidence learning design thinking by submitting your case study materials and an individual reflection of applying the learning in your own work. The trainer will assess your capability and give you feedback.
Flow and contents of the Design Thinking in HR training program
Program flow
We'll start with a kick-off to let small groups get introduced, and we will also walk you through the Design thinking program and the expectations for being awarded the certification.
Throughout the program you'll work in a small group with a common goal: you'll innovate and redesign either an hypothetical onboarding experience or an exit experience. In the group you experience a full design sprint exercise taking your product all the way from understanding what the true needs of the users are to testing and validating your prototype to solve any pain points and/or to deliver a great onboarding/exit experience.
In the end of the program you'll submit your application ideas from the group, and your personal reflections on how you'll use Design thinking in your own role.
• Kick-off 1 hour

• Meet and greet your small group

• Introduction to the program & expectations

• Meet and greet your small group

• In your groups: Choose which problem you want to work on in the design sprint (onboarding or exit experience)

• Learn about personas

• Define limitations and constraints
Human Centric
Group work is 1 hour, self-organised in small group right after kick off.

• A fun and engaging personas exercise in your small group. Who are your user groups? What are their needs, wants, fears and requirements?

• Individual learning (1 hour): Study the design thinking theory on our virtual learning platform and prepare for the design sprint.
Co-create
• The double diamond and examples from HR
• In this session we're diving into running a fast-paced, energetic and practical Design sprint. In your groups you will familiarise with design thinking tools, methods, and practices through trying them in the exercise.
• Design sprint exercise: from Empathising, Categorising, Define
• Be prepared for having fun, being energised and so many insights!

• Ideation, prototyping theory
Innovate within contraints
Group work (1.5 hours, self-organised in small group)
• The super fun part of design thinking: Ideation!
• Build your group's prototype & plan your validation

Evidence-based
• Second part of our design sprint. Interactive and insightful session for getting rapid feedback.
• Testing theory and practices
• Test your prototype
• Discussion and Insights
• Q&A
• Prepare for submitting your certification material

1 week post training sessions:
Submit certification material from group + personal reflection
The trainer will assess your application skills against the Agile People Ops Capability Model (© 2017-2022 Agile HR Community, All rights reserved). 
Certification is awarded for successful participation and evidencing Design Thinking skills in HR:
Participating in all the sessions (facilitated and group work sessions)
Doing the pre-studies on the digital platform
Delivering the group's certification material in time
Delivering individual adoption and application reflections in your own work to be assessed.
The trainer will assess the submissions against the Agile People Ops Capability model ©  and give you feedback.
We are assessing four capabilities: Human-centricity, Co-create, Innovate within constraints and Evidence Based.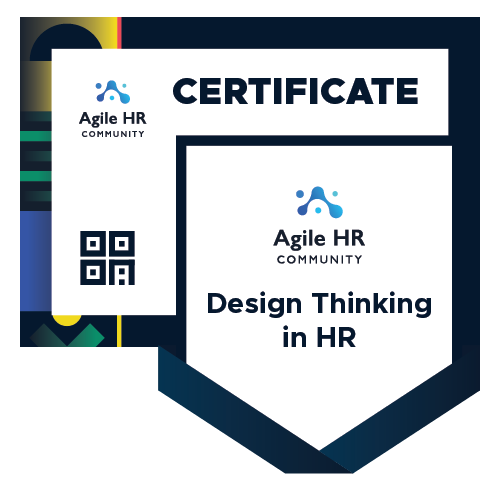 For in-house virtual deliveries 490 EUR/person + applicable VAT with a minimum of 14 persons
The maximum number of participants is 40 persons