This is the booking page for
To learn more about this:
Who is this program for?
Program benefits
Program contents
Format of learning
Head on over to our program description page.
Virtual Event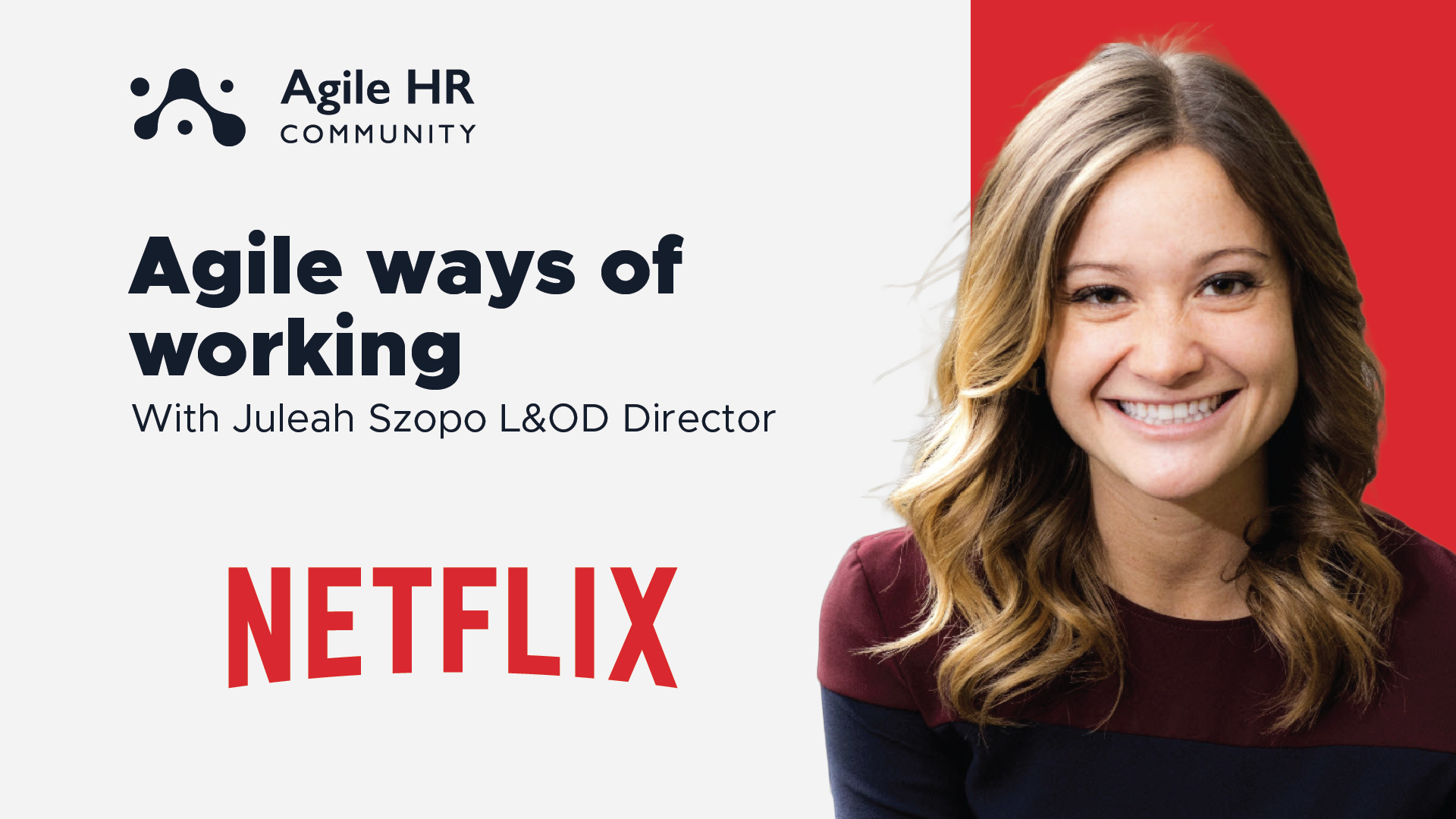 Agile ways of working at Netflix Learning and Organizational Development
learn about practical examples of Agile HR, to expand your case example library and to be inspired by a company like Netflix sharing their journey!
Netflix is an entertainment company entertaining millions of customers globally by creating great stories from anywhere and offering greater choice and control for people everywhere through their product. We have the absolute delight to invite Juleah Szopo, Director Learning and Organisational Development at Netflix Talent, who is serving the employees and leaders across Netflix globally.
The L&OD team's mission is to accelerate Netflix's ability to entertain the world by sparking curiosity and unleashing possibilities. We do this by creating and delivering impactful, engaging, and inclusive learning and org development solutions that inspire the best work of our lives. Our solutions are focused on scaling Netflix culture, strengthen leaders, and enable effective teams and organizations. More recently, we've started building key talent management practices that optimize our internal talent through an intentional approach to growing and developing our employees to meet the future needs of our organization.
Juleah is a leading voice in learning engagement and learning culture and is currently a Learning & Organizational Development Leader for Netflix.
Juleah is fascinated by organizational culture and is a true believer in the power of human potential. She is a builder at heart, with a natural ability to to turn ideas into reality. As a visionary thinker who is inspired by the future and what could be, she constantly strives to create alternative ways to solve challenges.
Hard problems excite her, especially challenges related to scaling and evolving company culture, developing key talent populations, and inclusion, diversity and equity work. Knowing how to connect the dots, understand others' needs and motivations, and never re-inventing the wheel, has allowed her to move across different HR disciplines over her career. Juleah's career spans global industry experience in: High Tech, Entertainment, Financial, and the Energy sector.
Outside of her love for what she does professionally, she's an avid reader who constantly convinces friends, and friends of friends, to join book clubs. Traveling across the world with her husband is a privilege she is forever grateful for, where their intense interest in food and wine drives their travel agendas.
In a conversational meetup Juleah will be joining our founder, Riina Hellström, to share her team's journey to adopt a fully Agile development model. The team members are professionally trained Agile HR Certified Practitioners and have been practicing Agility for a year, modifying a valuable and suitable Agile approach to designing and developing their learning, talent management and employee experience solutions.
Themes we will be discussing:
The story of the L&OD team – successes, learnings and insights from a one-year agile journey
How Agility brings value to global learning and employee engagement solutions.
Sharing reflections on how Juleah's team works with Agile organizational development with a global, diverse and fast-based employee population.
Netflix L&OD's agile model – how did the team tweak Agility to fit the purpose?
Practical tips and recommendations, warnings and fails.
Agile HR Community organises Agile HR case study meetups for peer learning purposes.
You are warmly welcome to join us to learn about practical examples of Agile HR, to expand your case example library and to be inspired by a company like Netflix sharing their journey!
Related Events