This is the booking page for
To learn more about this:
Who is this program for?
Program benefits
Program contents
Format of learning
Head on over to our program description page.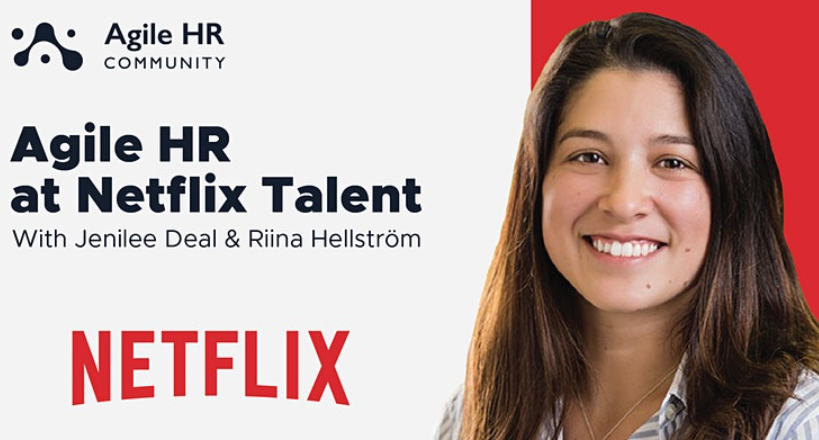 Agile HR at Netflix Talent
You are warmly welcome to join us for a peer learning meetup, with Agile HR Community and Netflix Talent.
We are over-the-roof excited about this meetup! Netflix really doesn't need an introduction. Their products and services are entertaining us globally, expanding from series, to movies, to gaming. The company is in rapid international growth, in evolution from being a US based Unicorn with the LA-based headquarters, towards global expansion, onboarding new companies, countries and cultures. The expectations on the Talent, Culture and People professionals in this environment are nothing less than intense. The organisation and the HR team is in continuous change.
Our guest Jenilee Deal stepped into the role of Director of Strategic Initiatives (SI), Talent at Netflix in early 2021 and recognized that Agile capabilities will bring a lot of value to the fast paced environment. The Talent teams already were very self-organised and engaged, and Jenilee saw that professional level Agile practices could elevate the teams' collaboration and value delivery. Later in the year, Jenilee also started leading the L&OD (interim).
Netflix Strategic Initiatives, and L&OD teams have now built professional Agile capabilities in the teams, and are now applying the practices and skills across their work.
We're honoured and thrilled to have Jenilee with us, sharing reflections from their journey and what role Agile is playing in the successes of the teams.
We're going to discuss reflections on i.e.
How Agile practices (with a capital A, as in structure, practices, principles and values) fits an already super-agile company with the fast-paced, self-organised, highly talented and engaged individuals and teams, who have the means and the freedom to innovated.
Insights about the rigor Agile brings to customer focus, collaboration, communication and planning.
The importance of tailoring and agreeing in the team about the Agile approach, instead of trying to fit everyone to a certain Agile mode.
Related Events