This is the booking page for
To learn more about this:
Who is this program for?
Program benefits
Program contents
Format of learning
Head on over to our program description page.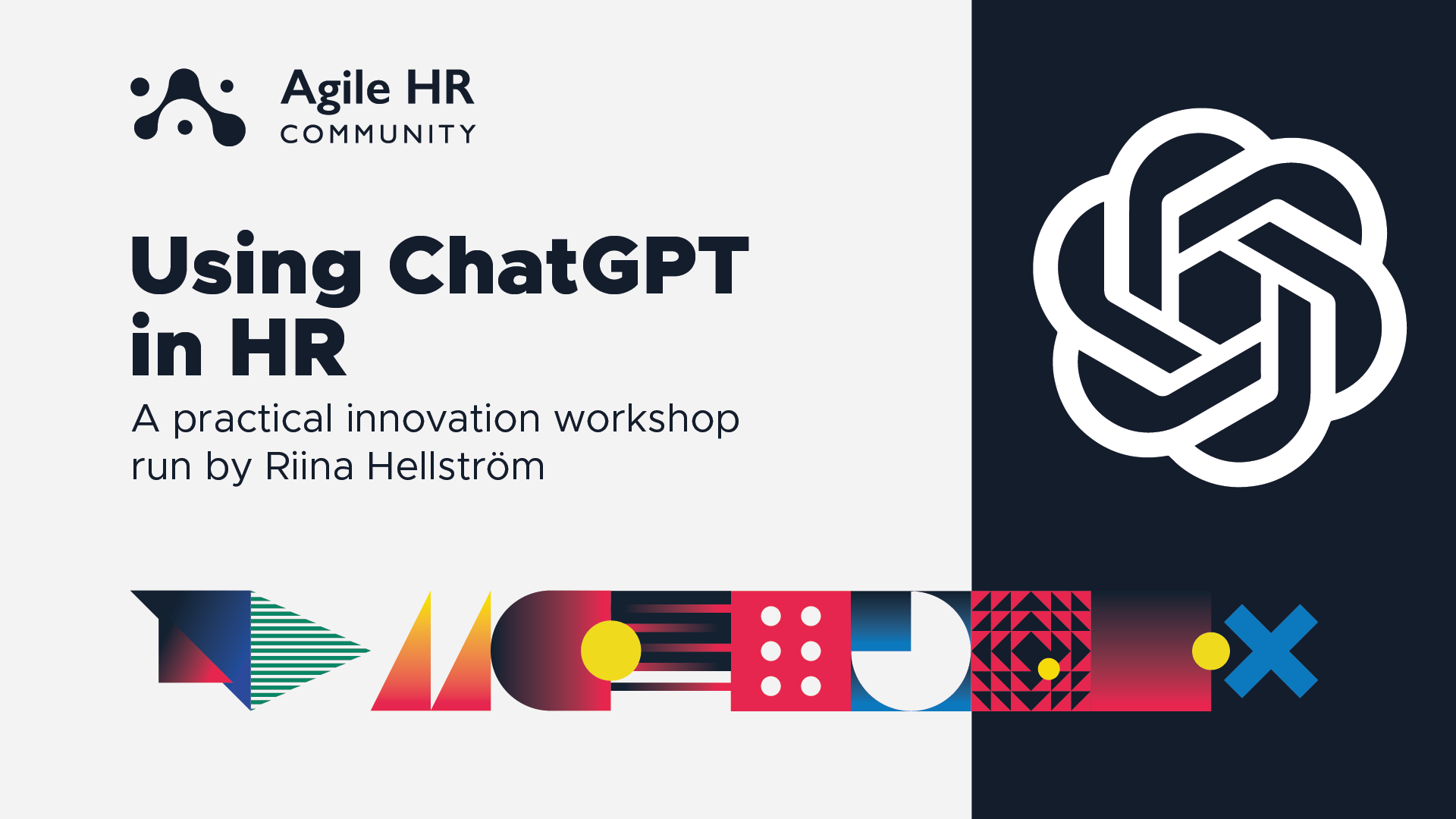 Amazing innovation workshop – how to use ChatGPT in HR
Understand how you can leverage ChatGPT in HR in this interactive workshop for HR professionals.
Understand how you can leverage ChatGPT in HR in this interactive workshop for HR professionals.
We are welcoming you to an explorative and interactive facilitated workshop about ChatGPT – the most powerful AI tool available to us all right now.
We'll just say this bluntly: If you are in people operations, you MUST understand the power of ChatGPT.
Agile HR Community is now offering a very active, fast-paced, fun and engaging way to learn about it!
After our innovation workshop you will have a basic understanding of what ChatGPT is, and many ideas on how we in HR can leverage the power of this AI-based tool (ChatGPT)!
In this workshop you will work in small groups, innovating and sharing ideas on how ChatGPT can revolutionise work (not just our HR work, but work overall!), jobs, routines, analysis, search, and knowledge sharing. The session is facilitated by professional trainers, who will guide your small groups to utilise fun design thinking tools, doing ideation, prototyping and pitching together. (Relax! It's not very serious, it's FUN and pitching is really just about sharing your best idea to others.)
---
Program: 90 minutes
Welcomes and information on how we will work

Introduction and a demo of ChatGPT. How can we use ChatGPT in HR?

Creating small groups, who will ideate, choose a couple of ideas to work on, get feedback on their ideas, build their fun short pitch, and then pitch the idea.

Each group works in small breakout rooms, in a facilitated manner.

Each group will deliver a 60-second pitch of their HR + ChatGPT innovation to the other groups

We will celebrate all ideas and the learning together and walk away with inspiration, ideas and an enthusiasm to start exploring ChatGPT at our own work.
Please ensure that you or your team participates in the whole session.
---
Price:
We are welcoming everyone to this community event, but with a first come, first serve, and no changes principle.

The maximum capacity for the workshop is 50 people. Tickets are €30 +VAT per person.

(No refunds for no shows, absences, or illnesses . Ticket is personal, no changes allowed for the ticket (i.e. name changes))
Related Events