This is the booking page for
To learn more about this:
Who is this program for?
Program benefits
Program contents
Format of learning
Head on over to our program description page.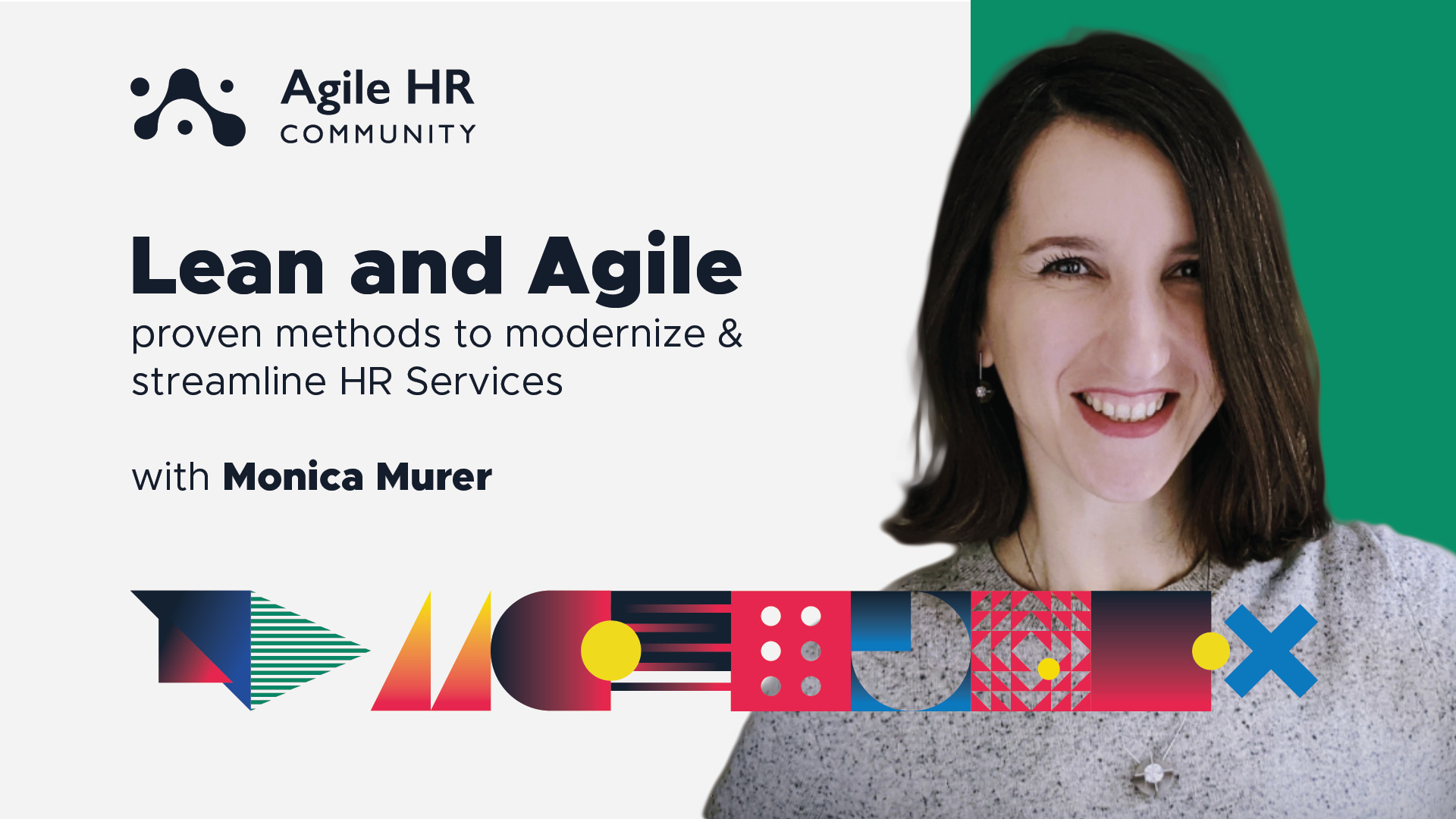 Lean and Agile – proven methods to modernize and streamline HR Services – with Monica Murer
Come meet our newest Agile HR Trainer, Monica Murer for a discussion around bringing LEAN and Agile alive in HR Services.
HR Services have gone through massive digitalization and harmonization programs. Are we also developing better user experience? How can we build a continuous development culture into HR services teams, so our HR products are updated and value delivery is improved? Join us for this free 1-hour virtual meetup where Monica Murer will be interviewed by Riina Hellström, Founder of Agile HR Community around modernizing and streamlining HR Services.
Come meet our newest Agile HR Trainer, Monica Murer for a discussion around bringing LEAN and Agile alive in HR Services. As a LEAN black belt practitioner Monica has valuable experience in LEAN development of value streams, people processes, tools and workflows. Through the agile heartbeat she incorporates the user experience and human centricity.
Monica's current day job is Head of People Operations EMEA & APAC at Uber, and she has held senior HR leader Global Services Director positions at Honeywell and Siemens and as a side gig, she is now supporting Agile HR Community's customers, too!
What HR Services will we be discussing:
Context: What are the trends with HR Services now?
What is the difference between LEAN in HR and Agile in HR?
Practical examples of using LEAN in HR Services
Practical examples of how to adopt and use Agile in HR Services.
We're of course mentioning large themes such as the use of analytics, AI, robotization etc. but focusing more on hands on discussion of how you can bring LEAN and agile alive in the design and delivery of excellent HR services to your employees.
Monica has spent her career in various functional areas, starting with IT Operations, Procurement and finally finding her HOME in People Operations for the last 10 years. She is driven by the energy of designing new experiences for existing processes, simplifying for the benefit of customers and working with and for people. She is an experienced facilitator who is able to adjust to different audiences taking her inspiration from long expertise with Lean, Six Sigma and Design Thinking methods.
She has been successfully learning from many Agile projects driven in a Waterfall way and therefore she brings a ton of experience for our programs with real practical examples from a variety of processes or business transformations. (e.g. onboarding, offboarding, payroll, M&A, divestitures, etc.)
Riina is an Agile HR pioneer and enterprise organisational development professional. She was among the first HR leaders pioneering in #AgileHR in 2010. She's worked in transformations with scaling Agile across businesses with Scrum at Scale, SAFe and the Spotify Model, and helped several HR teams redesign their journey towards Agile operative models. She is the first HR professional globally to achieve the Licensed Scrum at Scale trainer.
Her specialty is Agile Leadership and the organisational structures for Agile operations. She is the author of the book Agile HR – Delivering value in the changing world of work (Kogan Page 2020), a book that is quickly becoming the go-to guide for Agile HR. Riina has now trained hundreds of HR professionals in Lean HR and Agile HR. She's advising CHRO's and their teams in transforming the HR operations and is appreciated as a straightforward, inspiring and engaging speaker in HR/Agile conferences, leadership off-sites and events.
Related Events